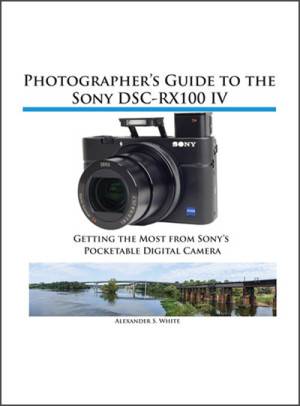 Photographer's Guide to the Sony DSC-RX100 IV
Overview:
Photographer's Guide to the Sony DSC-RX100 IV is an updated version of Alexander White's earlier books about the DSC-RX100, RX100 II, and RX100 III. The new book is 248 pages long and has more than 450 full-color illustrations or photographs. This book, unlike White's earlier three guides for the Sony RX100 series, is printed at a size of 8.5 by 11 inches (216 by 280mm), a larger size with a two-column format, which includes more images and information per page than the earlier books. (The original printing of this book was at a size of 8.5 by 8.5 inches, with more pages; both versions contain the exact same text and images.)
This guide to the RX100 IV covers all features of the fourth model in this series of high-quality compact cameras. The book is available in a bundle of three downloadable versions through this site for $9.95. Use the Buy eBook button to purchase the bundle. If you purchase the book through this site, you will receive an e-mail message with links to the PDF, Kindle, and iPad versions of the book.
To get an idea about the contents of the book, you can download the Table of Contents, the Index, or an Excerpt from the book. You can also see some sample photos from the book.